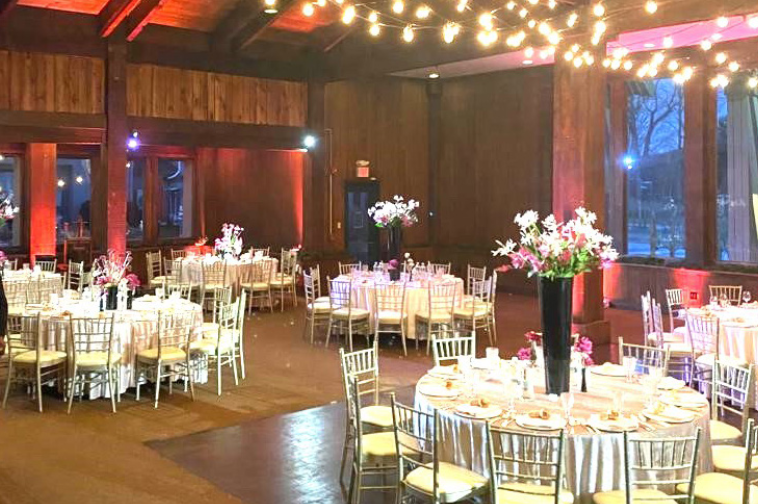 The fast-paced nature of life often leaves people feeling drained, exhausted, and anxious. Expectations of a parent of a child or children with special needs is exponentially higher. Physical and emotional demands on families can create a stressful environment. Focusing on the mothers as caretakers of these children is where HASC Center excels.
The event organizers are mothers who have children with special needs. Beilu Freund and Bracha Lavrinoff understand and relate to taking care of the caregiver. Many hours of thoughtful planning with additional HASC Center retreat team members and their perspectives go into a successful retreat. The balanced program allows for everyone's enjoyment and is carefully chosen based upon a constant discus- sion of how each activity will benefit the mothers.
Our retreat took place at The Heritage Hotel in Southbury, CT. Located only 20 minutes from Waterbury, CT, the community members from there were helpful resources for entertainment, including exercise, a pop-up boutique, a speaker, kumzitz musicians, and the 12th graders of the Bais Yaakov as babysitters for infants that moms could not leave at home. Mrs. Suri Taub, a staff member from HASC Center, spoke for the high school girls at the Bais Yaakov in Waterbury about families who have children with special needs and being aware of the needs of these families. This hotel sported a spa for massage therapists who gave each mother a 40-minute much-needed massage! Makeup demonstrations and free sheitel wash and sets enhanced the self-care element that was a goal of the two-day retreat. The idyllic and rustic facility had couches and fireplaces for a cozy feeling throughout the two-day retreat.
Our well-rounded program offered interactive workshops, aqua aerobics in the indoor pool, entertainment, and featured speakers Bassy Goldman and Genendel Krohn, who spoke about emunah, empathy, and challenging times. The most inspirational highlight of the retreat is our parent panel. This year the focus of the panel was parents who have initiated programs/projects in honor of their children with special needs.
Through a mix of virtual guests and parents who were present, the mothers felt em- powered by their peers who have taken a challenging situation and have used them to spark good things in this world.
Our top-of-the-line caterer satisfied all palettes offering alternatives for sensitive diets. Beautifully presented, the food was both nourishing to the body and soul. The 24-hour tea room was open for mothers to drink hot tea and nosh with friends during late-night schmoozes and throughout the stay.
Our 8th annual mother's retreat applauds the selfless dedication these mothers have towards their Families. Mothers from various backgrounds networked and became friends. The vast knowledge and information that the mothers share promote a moving forward attitude instead of a helplessness sometimes associated with caring for children with special needs. Many anticipated the retreat from former years while new mothers joined this year. During the 36 hours, we took the moms on a journey of laughter, self-introspection, inspiration, and complete rest and relaxation. Every year we designate another theme and this year was "Precious Gems". The decor and topics were all reflective of this theme. Our children with special needs are precious gems, as are the people who care for them.
The refrain from the song that was lyrically composed sums up the chizuk that HASC Center offered the 95 moms:
The clear lesson to me
It is so deep and bright
That an image does change When the perspective is right
We may need to change our place To function at our best
HASC women's retreat
Offers the gift of rest
To pick up your gems
And polish them with care Inspect all the details
Of what makes your gem rare
With all the sizes and shapes And brilliant colors galore Each one is quite
Precious to its core
....Hashem is the Master Appraiser
Of the precious gems we own.
All of these activities are possible because of the Kahn family's dedication, for over fifty years, to supporting the families that they serve in all of their various respite, camp, and waiver programs.
With much appreciation to our event coordinators; Devorah Kahn, Beilu Freund, Brocha Lavrinoff, Miriam Nemetsky, Reizy Weingarten, Surie Taub, and Kellie Broyn.
We look forward to our next outstanding mother's retreat in 2023!