News
/
HASC Center Breaks Ground to Build Futures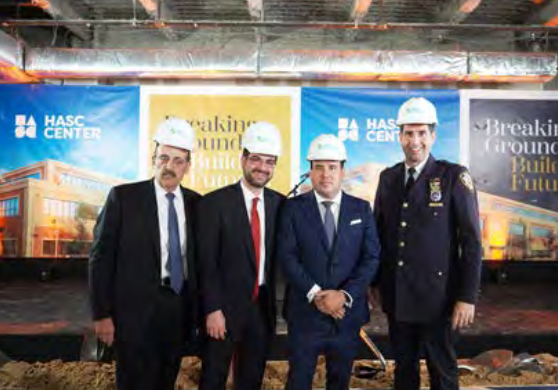 HASC Center Breaks Ground to Build Futures
Community members and elected officials stood proudly together on Sunday, as hundreds gathered to celebrate the start of construction at 120 Avenue M, where a new and expanded center of operations and HASC Center Campus will soon stand.
For half a century, the Hebrew Academy for Special Children has served individuals with special needs, providing care and services for thousands of children, adults and their families in homes and buildings spread throughout Brooklyn. HASC Center's founder and indefatigable CEO, Mr. Shmiel Kahn has been dreaming of creating one centralized location to streamline and unite the plethora of services HASC provides. At Sunday's well-attended community event, "Breaking Ground, Building Futures" shovels hit the ground to bring Mr. Kahn's dreams into reality.
The new campus, a state-of-the-art facility that will span one city block will cover 45,000 square feet and stand three-stories tall on Avenue M, between McDonald and East 2nd Avenue, which HASC President Abe Eisner calls, "the perfect location from which to serve Brooklyn's special needs community - right in the heart of our community, between Boro Park and Flatbush."
Expressing gratitude on behalf of HASC's leadership and families, Eisner called Sunday's turnout of 200 elected officials, community leaders and friends who joined the event to share in the celebration and lend support "absolutely overwhelming."
With the incredible growth of the burgeoning frum community in Brooklyn, Heshy Kahn, the executive director of HASC's Diagnostic and Treatment Center explained the need for expanded services for individuals with intellectual and physical disabilities has grown as well.
"Our new facility will provide internal medicine, dermatology, podiatry, neurology, dentistry, speech therapy, occupational therapy, dentistry, and a special emphasis on woman's health - all streamlined and located under one roof," Kahn explained.
The services our community has come to count on, such as Com/Day-Habs will continue to provide every individual with the highest level of care and professionalism: all in one convenient, central location."
Consolidation of HASC's programs into one facility includes the relocation of the Blanche Kahn Medical Center, named in honor of HASC's legendary founder. Together with her husband, Max (Mordechai) Kahn OB"M, the family has led a veritable revolution of chesed in the Jewish community.
"We have spent years and years preparing and working for this day, and with Siyata D'shmaya, [we] have overcome many obstacles," said Kahn, who has dedicated his life to the growth of HASC Center. "We are thrilled to start to build the structure from which we will provide thousands in our community with the professional and loving care they need."
While HASC Center Executives, Avi Sacks, Hadassah Halberthal and Yehuda Meir Horowicz and everyone on staff at HASC is thrilled with the plans for expansion, no one is more grateful for HASC's new building than the parents of the individuals whom are served.
"This is a game-changer for our entire community and a beacon of hope for families like ours," said Chanie, whose daughter Chavy was born 10 years with Down Syndrome and other conditions that required constant care. "HASC has always been able to serve our needs, but the shlepping among many different care centers is very challenging. The idea that HASC will soon be able to provide all of our needs under one roof will save us so much time and energy will be so much easier for parents of children with special needs."
On Avenue M, expanded vocational programs will provide training and prepare HASC Center members to enter the workforce. In addition, after a day filled with programming, treatments and stimulating activities, HASC Center clients will enjoy the "respite hubs" planned for the new building, specially designed for rest, recreation and relaxation. Beautiful therapy and sensory rooms replete with "magical lighting, bubble towers, and soft poufs" will provide the perfect environments in which therapists can "use all the necessary tools to facilitate progress for their clients."
Sunday's ground-breaking was "a wonderful way to celebrate HASC's 50th year anniversary," said Rabbi Chaim David Zwiebel, the executive vice president of Agudath Israel of America, who added that for the decades he has been visiting HASC, he remains "awestruck and spellbound by the variety of heartfelt services the organization lovingly provides.
"With its new state-of-the-art facility, HASC will be in a position to take things to a whole new level: literally, mei'chayil el choyil, from strength-to-strength!"
Ezra Friedlander, who organized Sunday's groundbreaking, called HASC's new campus, "the crown jewel of Brooklyn."
"HASC is a home to love, life, and laughter," said Friedlander, who praised HASC's "culture of care and compassion, of generosity and persistence.
"We're looking forward to the Chanukah Habayis," Friedlander said with a smile.
Some of the state officials that were at the groundbreaking were: David Z. Klestzick, Deputy Chief, Office of Brooklyn District Attorney Eric Gonzalez, Israel Nitzan Deputy Consul General of Israel, Pinchus Hikind, Office of NYC Comptroller Brad Lander, District Leader Pinny Ringel, NYS Assemblyman Steven Cymbrowitz, NYS Comptroller Tom DiNapoli, NYS Assemblymember Simcha Eichenstein, Joel Eisdorfer, Senior Advisor to NYC Mayor Eric Adams, NYPD Inspector Richie Taylor, District Manager CB 12 Berry Spitzer, US Representative Yvette Clark, NYS Assemblymember Helen Weinstein, NYC Councilmember Rita Joseph, NYS Assemblymember Brian Cunningham, NYC Councilmember Kalman Yeger, Pesach Osina, NYC Council Speaker Adrienne Adams & Simon Sebag, Office of NYC Public Advocate Jumaane D. Williams.