News
/
Alumni Play in HASC Hockey Classic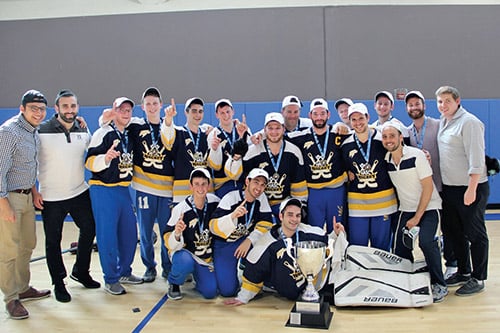 Alumni Play in HASC Hockey Classic
The second Annual HASC Hockey Classic was held this past Sunday in Teaneck. Over 160 yeshiva league alumni hockey players from schools from all over the tri-state area came to compete to benefit Camp HASC. Camp HASC would like to emphasize the incredible job done for the second year in a row by co-chairs Gilad Rosenberg and Sam Schertz, tournament director Kivi Naiman and tournament advisor Elliot Weiselberg.
As part of the day, each team was asked to help raise funds for Camp HASC. For more than 40 years, Camp HASC has served the Jewish community as the premier summer program for children and adults with special needs, intellectual and physical disabilities. In just a little over a month, through the efforts of the over 150 participants, more than $96,000.00 was raised for this incredible program. Donations can still be made on the tournament website at hockey.camphasc.org. Additionally, sponsoring the event were Leeding Builders Group and Avison Young.
The morning session featured all 12 teams in round-robin play. The schools were split into four groups of three, two of which played their games in TABC, while the other two went to Ma'ayanot or Yeshivat Noam. Each team played two games with the top two teams in each group of three advancing to the Tier I playoffs in the afternoon, while the third place team would move to the Tier II playoffs.
At each site, all players received personalized jerseys based on their school colors, complete with name and number, sweatpants, a water bottle and drawstring bags, courtesy of LNS Enterprises.
Out of the morning sessions, Frisch, HAFTR, TABC and MTA won their respective groups, with DRS, Kushner, HANC and Team Canada advancing to Tier I as well. For their efforts, SAR, All City, Rambam and JEC would be heading to the Tier II bracket.
After the morning games, all teams returned to TABC for lunch catered by EJ's Place in Teaneck.
In the afternoon, all games were played in Teaneck with the Tier I playoffs taking place in TABC and the Tier II tournament in Ma'ayanot.
On the courts, Frisch, TABC, HAFTR and MTA advanced to semifinals with both games resulting in identical 1-0 victories in overtime, setting up a familiar sight over recent years for yeshiva league hockey fans, a showdown between MTA and TABC. The game went scoreless into the second period until TABC defenseman Donny Fuchs (TABC '12) scored the first and only goal. The tournament MVP was Daniel Levy (TABC '16) and Top Goalie was awarded to Mordy Dubin (TABC'11) who shut MTA out the rest of the way, capping off a day in which TABC went undefeated in their five games played on their way to the Tier I Championship.
In the Tier II championship game, held at Ma'ayanot, SAR topped Rambam 4-2 behind goals from Josh Rosenberg '16, Seffi Jonas '15, Michael Grossinger '07 and the game winning goal by Solomon Freilich '17.
Additional awards were handed out, courtesy of Crown Trophy of Brooklyn, including Top Defenseman, which went to Zev Markowitz (MTA '15) as well as four All Tournament team trophies, awarded to Jordan Gellman(HAFTR '09), Ari Drazin (Canada '09), Moshe Jaroslawicz (MTA '10) and Eitan Grossinger (SAR '12).
Camp HASC would like to thank JEC who raised the most of any team with over $11,500 as well as the top ten individual fundraisers from over 160 players: Ariel Holzer (Rambam '98), Nachi Karpel (JEC '05), Sam Schertz (DRS '08), Eitan Gavarin (DRS '09), Chesky Schreier (DRS '10), Josh Rosenberg (SAR '16), Sam Schwalbe (SAR '15), Kevin Schrier (HANC '11), Akiva Gottlieb (MTA '14), and Ian Schrier (HAFTR '06).
Proceeds from the Camp HASC Hockey Classic will be dedicated toward providing affordable therapeutic care for the hundreds of children and adults spending their summer at Camp HASC. The range of therapeutic activities, adaptive physical therapy, bike riding and tailor made motorized equipment as well as a dedicated, professional staff and 'round the clock carry-over, enables everyone to participate—and for our special campers to reach goals beyond all expectations. Each summer, miracles take place in the Camp HASC therapy department, where individuals with special needs receive world-class, occupational, physical, speech and music therapy, tailored to meet their specific needs.